In March we saw a big brawl between two rival gangs of monkeys in Lop Buri, Thailand, and then their  final take over of the town. Then, in June, came a life sentence for Kalua, the alcoholic Indian monkey who terrorized  over 250 pedestrians and will be spending the rest of his days in solitary confinement. According to the reports:
Local authorities said Kalua was formerly owned by an "occultist" who routinely supplied him liquor to drink, which turned him into an alcoholic. They said the monkey became very aggressive three years ago when his owner died and left him no avenue to acquire more alcohol.
Can't help but feel sorry for the guy, and wonder why he didn't join a monkey gang if he wanted to raise so much hell? The Lop Buri story reminds me of that Strugatsky novel "Doomed City", where: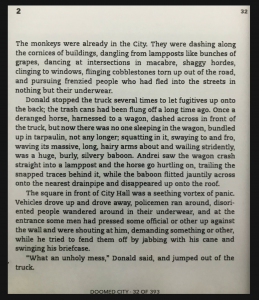 Could it be another portent of some kind?